Jerry Dalton was the first career public affairs officer to attain the rank of brigadier general and be named Air Force Director of Public Affairs. He was an inspirational leader, visionary manager and vital role model for countless public affairs men and women of every rank.

Brig. General Dalton began his 30-year career as an ROTC graduate from the University of Texas, Austin in January 1950.

He subsequently served in key Public Affairs positions at base, wing, Air Division, major command, Hq USAF and OASD levels culminating, in June 1972, being named director of information for Air Training Command, Randolph Air Force Base, Texas.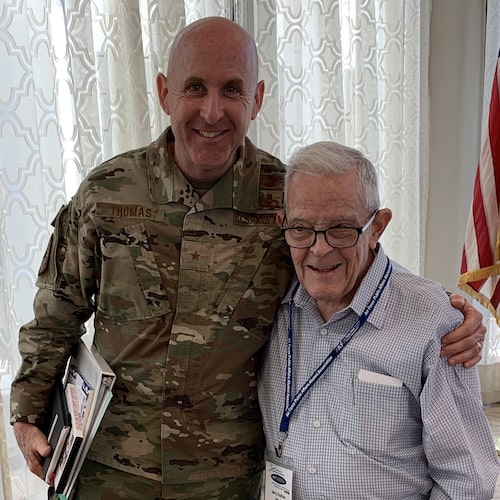 Among his many assignments was serving as chairman of the Department of Defense POW/MIA Public Affairs Panel and as a member of the DOD POW/MIA Task Group and the White House POW Group in the early 1970s. He was chosen in 1974 by the Aviation/Space Writers Association as the outstanding public information officer in the military.

He was assigned as deputy director of information, Office of the Secretary of the Air Force, in March 1975 and assumed the duties of the director on December 17, 1975. He was Director for 5+ years until he retired in August, 1980.

He was the national president of the Public Relations Society of America in 1990, and the founding president of its philanthropic organization, the PRSA Foundation.

General Dalton passed away on November 1, 2020. To honor his legacy, AFPAA has established the Dalton Scholarship program to help members of Air Force Public Affairs pursue professional educational opportunities.

To learn more about General Dalton, you can read his biography and Oral History here, his official Air Force general officer biography here, and a tribute to him from the Public Relations Society of America here.