July 14, 2023 — In this week's look around the Air Force, the Berlin airlift was the first major challenge for a new Air Force 75 years ago, deployments are changing as the service moves to a new model, and Air Expeditionary Wings get new staffing.
July 7, 2023 — In this week's look around the Air Force, Air Mobility Command honored 100 years of air refueling with flyovers across the U.S., special duty pay changes for some career fields, and the Air Force Research Lab is working with the Space Force for a new way to gauge fitness.
June 30, 2023 — In this week's look around the Air Force, NATO's largest air exercise ever, a strategic action plan incorporating women, peace and security concepts across the department, and digital experts learn about artificial intelligence solutions.
June 23, 2023 — In this week's look around the Air Force, 5th generation fighter jets share software, managing the skies after a disaster, and the Air Force Reserve offers retirement counseling services.
June 16, 2023 — In this week's look around the Air Force, the Space Force announces preferred locations for units, some pilots can apply now for special bonus pay, and a fake e-mail is circulating that servicemembers need to be aware of.
June 9, 2023 — In this week's look around the Air Force, recovery efforts after Typhoon Mawar hits Guam, a new assignment swap program begins, and the MQ-9 Reaper gets an upgrade that's a "game-changer."
June 2, 2023 — In this week's look around the Air Force, President Biden nominates General CQ Brown, Jr. as the next Chairman of the Joint Chiefs, pending Senate confirmation, Airmen and Guardians can get medals and promotions as part of new incentives for recruiting, and cadets at the Air Force Academy are studying how people interact with robots.
May 26, 2023 — In this week's look around the Air Force, high power microwave transmissions take down a swarm of drones in a simulated attack, the We Are All Recruiters program gets Airmen and Guardians into communities to talk about career opportunities, and a new accommodations portal simplifies procedures for civilians and servicemembers.
May 19, 2023 — In this week's look around the Air Force, Secretary of the Air Force Frank Kendall talks about the future of innovation and collaboration with partners and allies, the Air Force supports Defender 23, an Army-led international exercise in Europe, and new supervisors have an additional resource to ready themselves for taking care of Airmen.
BASIC: Journey to Airman
Everyone's journey to becoming an Airman looks a little different. Follow five trainees as they go through the eight weeks of Basic Military Training and embark on their journey in the United States Air Force.

"BASIC: Journey to Airman" is an eight part documentary series presented by Air Force Recruiting Service and produced by the 3rd Audiovisual Squadron. Except for the short introductory teaser, each chapter — one for each the eight weeks of basic training — runs approximately 45 minutes. For a great reminder of what you may vividly remember (or want to forget!) and an update of what's new and different, taking the time to view this outstanding production is definitely worth it.
Chapter One: First Impressions
Chapter Two: Shock and Awe
Chapter Three: Chow Runners Go
Chapter Four: The Weakness of One
Chapter Five: Integrity First
Chapter Six: Service Before Self
Chapter Seven: Excellence in All We Do
Chapter Eight: Airman
Red Tail Angels
The Story and Legacy
of the
Tuskegee Airmen
From SAF/PA and AFNS -- In commemoration of the 75th anniversary of World War II, the U.S. Air Force video production team produced an Emmy® Award winning video series to highlight the Tuskegee Airmen and their impact on the war, and society as a whole.

"The Red Tail Angels" documentary series showcases the hardships, struggles and ultimately the successes of the Tuskegee Airmen.

"The Tuskegee Airmen represent a part of American history, which for far too many years languished in obscurity after WWII," said Anthony Young, Air Force Television senior producer. "This documentary is an attempt to tell their story through the words of those who lived it, highlighting not only the obstacles they faced, but the perseverance they exhibited in overcoming it. Though they have been revered for their exploits during the war, I think their legacy is evident not only throughout the U.S. armed forces, but within society as a whole, given the many doors their success has led to the opening of."
With a salute to the Tuskegee Airmen for their sacrifice and courage, and a well done to the Air Force Television team for their Emmy® winning work telling the story of these brave men, AFPAA is pleased to present all three episodes of "Red Tail Angels" here. Each epidode runs between 24 to 30 minutes in length.

Episode 1 ...
Episode 2 ...
Episode 3 ...
Own The Sky
Capitalizing on the box office success of the movie Top Gun: Maverick, the Air Force released a recruiting commercial sure to attract attention and the interest of potential recruits. The Air Force said that the "heart-pounding, adrenaline inducing ad gives the audience a sense of what it might feel like to be on the receiving end of the Air Force's might and accentuates the importance of airpower in America's security."

"The intensity of this spot is stunning so hold on to your popcorn because we are bringing the Air Force to your seat," said Maj Gen Ed Thomas, Air Force Recruiting Service commander and former SAF/PA director. "We want to get Americans excited about what it means to serve this great nation. There are more than 130 career options an Airman can take on their full or part-time journey to defend our skies. The air superiority in this video just gives you a glimpse of a small percentage of what is possible when you join us."

Fasten your seat belt before clicking the play button...
The Path Forward:
US Air Force
Chief of Staff
Gen. Charles Q. Brown, Jr.
On January 25th, 2021, Washington Post columnist David Ignatius interviewed Air Force chief of staff Gen. Charles Q. Brown Jr. as part of "The Path Forward" program on "Washington Post Live". They discussed what it means to be the first Black chief of a U.S. military service, how AI will reshape air combat and countering the China threat. The interview runs for approximately 32 minutes.
"At Altitude" Podcast
with Major General Ed Thomas
An episode of Airman Magazine's "At Altitude" podcast series featured recently retired Air Force Recruiting Service Commander, and former SAF/PA Director, Major General Ed Thomas. You can listen to the podcast by clicking or tapping on the "At Altitude" logo image at the left.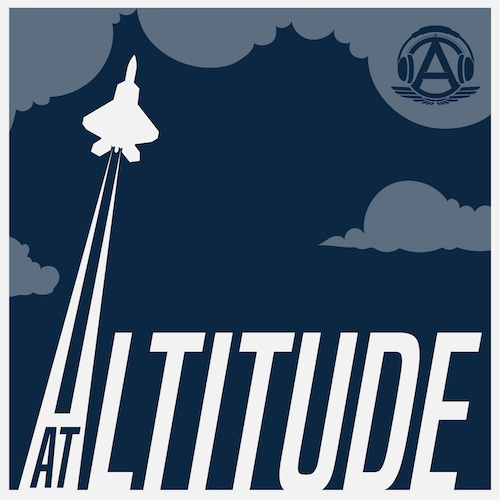 From Airman Magazine:

"The Air Force Recruiting Service comprises more than 3,000 Airmen and civilians and approximately 1,200 recruiting offices across the U.S. and abroad. Thomas is responsible for all enlisted accessions and a variety of officer accession programs. AFRS also manages all strategic marketing for the U.S. Air Force.

"In the era of the COVID 19 pandemic, Thomas and his command have the daunting task of finding the best and brightest civilians, enlisting them in either the Air Force or Space Force, whose ranks Air Force recruiters are currently responsible for populating. Then, through a revamped, socially distanced basic military training, the Air Force builds them into the next generation of Airmen and the very first generation of Space Professionals.

"In this "At Altitude" podcast, produced by Airman Magazine, Thomas discusses the need for and benefits of diversity within the force, the challenges of recruiting during a pandemic and the integration of recruiting across the total force from Air National Guard to ROTC and civilian to uniform military."
The social media world of today may be quite different from the information environment that many retired AFPAA members dealt with when they were on active duty, but it hasn't changed the continuing challenge of determining how best to communicate with a target audience.

SAF/PA understands this, and in 2019 and 2020 they conducted a study to learn more about the information needs of Air Force and Space Force military and civilian personnel, and the sources they turn to for that information.

The study was conducted in two phases: an initial survey designed to learn from a representative sample of the Total Force and provide generalizable results, and a follow on program of focus group sessions to provide instructive, though not necessarily generalizable, insights into the information environment of today's Air Force and Space Force.

SAF/PA has kindly made this interesting study available to AFPAA members. You can read the briefing slides for the study, called Where Airmen Get Information, here.

(Please note that the first ten slides may seem somewhat repetitive. They contain the introductory slides for two different audiences - unit leaders and PA professionals.)
"Rebels to Reels" - The Biography of
Combat Cameraman Dan McGovern...
"Rebels to Reels" is the fascinating true-life story of Dan McGovern, the US Army Air Forces Combat Cameraman who filmed in Hiroshima and Nagasaki only weeks after devastating atomic bombs were dropped on those Japanese cities. This three-part, 450 page, highly researched biography contains numerous accounts of interest to any PA or military history buff, including how the definitive footage of the atomic aftermath we have today was shot, and the efforts of McGovern to save that footage for posterity.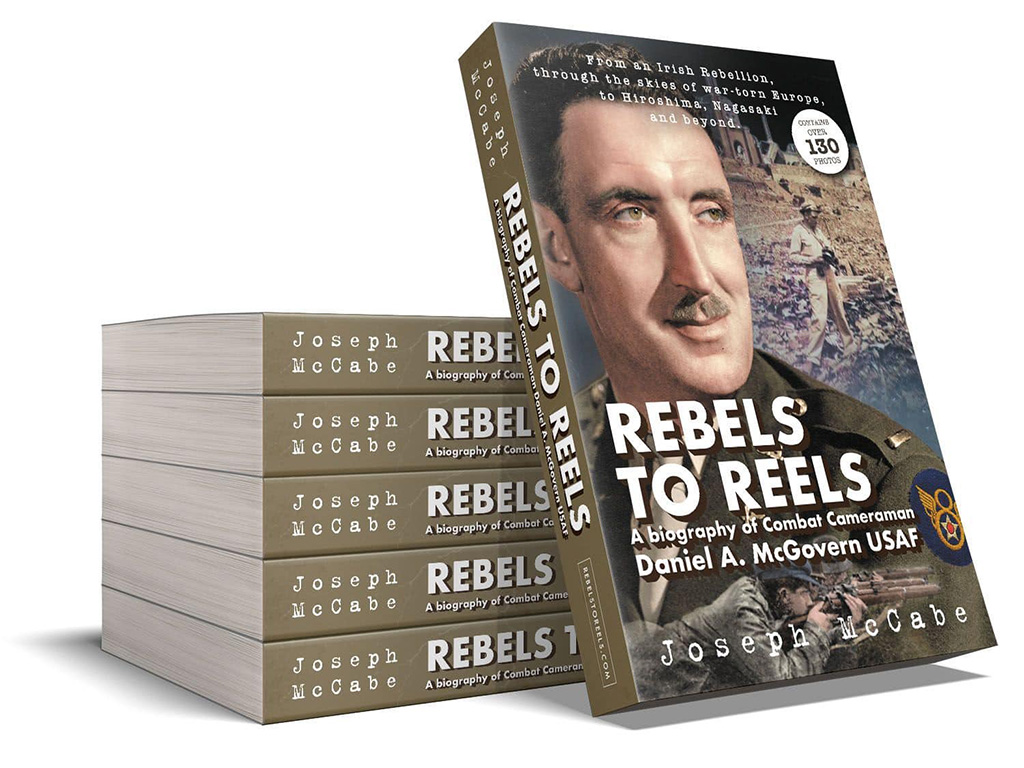 To say McGovern lived an eventful life would certainly be an understatement. After the Irish-born cameraman joined the Army Air Forces, he set up the First Motion Picture Unit (FMPU) Combat Camera school in California and trained World War II's first cadre of USAAF cameramen before deploying to England himself, where he flew and filmed B-17 missions. After Europe, it was on to his amazing experiences in Japan, and a remarkable post-war career.

Written by Joseph McCabe, who grew up in the same small town in Ireland as McGovern, "Rebels to Reels" was published to coincide with the 80th anniversary of the establishment of the Eighth Air Force and the 75th anniversary of the formation of the US Air Force. Dedicated to Combat Camera men and women past, present, and future, the book provides fascinating insights into how combat footage is and was filmed, the Eighth Air Force, World War II, and how the US Air Force of today came into being.

You can learn more about the book, and the life and career of Combat Cameraman Dan McGovern it chronicles, on the book's companion website, which also contains video of some great combat footage. The book is available for purchase there, or on Amazon.
New Air Force Song Lyrics
Final Changes to Air Force Song Announced
From: AF News Service
By: Charles Pope
Secretary of the Air Force
Office of Public Affairs
May 29, 2020

All stanzas of the Air Force song have been updated to better capture and represent the valor and heritage of the 73-year-old service while also recognizing the diversity and contributions of today's Total Force regardless of gender.

The announcement by Air Force Chief of Staff Gen. David L. Goldfein, completes a two-step process in which male-only references were revised to capture the distinguished service, the high standards, and central role that women play in every facet of the modern United States Air Force.

The first step focused on changing the song's third verse, which also serves as the official song of the United States Air Force Academy. Goldfein unveiled those new lyrics in March and suggested that additional changes to remove the remaining male-only references would be made at a later date and after further review.

The updated lyrics include subtle but important changes that more accurately illustrate the role women have played for decades.

"These new lyrics speak more accurately to all we do, all that we are and all that we strive to be as a profession of arms," Goldfein said. "They add proper respect and recognition to everyone who serves and who has served."

At the same time, Goldfein re-emphasized the careful consideration that went into the decision for whether, and how, to change the lyrics.

"I also know with absolute certainty and clarity that these changes are about adding to, not subtracting from, who we are," he said. "Changing the lyrics in no way diminishes the history and accomplishments of men or dilutes our eternal gratitude for their sacrifice and bravery."

The complete new lyrics are:
The U.S. Air Force Song
(Adapted)
Off we go into the wild blue yonder,
Climbing high into the sun;
Here they come zooming to meet our thunder,
At 'em now, Give 'em the gun!
Down we dive, spouting our flame from under,
Off with one helluva roar!
We live in fame or go down in flame. Hey!
Nothing'll stop the U.S. Air Force!

Verse II

Brilliant minds fashioned a crate of thunder,
Sent it high into the blue;
Valiant hands blasted the world asunder;
How they lived God only knew!
Boundless souls dreaming of skies to conquer
Gave us wings, ever to soar!
With scouts before and bombers galore. Hey!
Nothing'll stop the U.S. Air Force!

Verse III

Here's a toast to the host
Of those who love the vastness of the sky,
To a friend we send a message of the brave who serve on high.
We drink to those who gave their all of old,
Then down we roar to score the rainbow's pot of gold.
A toast to the host of those we boast, the U.S. Air Force!

Verse IV

Off we go into the wild sky yonder,
Keep the wings level and true;
If you'd live to be a grey-haired wonder
Keep the nose out of the blue!
Fly to fight, guarding the nation's border,
We'll be there, followed by more!
In echelon we carry on.
Oh, nothing'll stop the U.S. Air Force!

Lyrics printed with permission from Carl Fischer, LLC.
And The New Space Force Song
The U.S. Space Force has officially adopted its own song, titled "Semper Supra." It was unveiled during the September 2022 Air Force Association Air, Space and Cyber Conference in National Harbor, Maryland.

Here's a video with the lyrics, and introductory remarks by General Jay Raymond, the first Chief of Space Operations: