Reed Switzer was the first NCO in the Public Afffairs career field to be promoted to both Senior Master Sergeant and Chief Master Sergeant. That's an extremely impressive accomplishment by any standard, but especially so for a World War II draftee who had only trained to be an infantryman, and who, by the way, had no background at all in public relations.

After completing infantry training, Reed awaited his assignment to a combat unit, but instead was sent to work in the War Correspondents Office at Supreme Headquarters Allied Expeditionary Forces in London. It was there that he got to work with such legendary war correspondents as Edward R. Murrow, Ernie Pyle, Walter Cronkite, and Ernest Hemingway. He became especially good friends with Ernie Pyle, and they exchanged letters frequently until Pyle was killed in Okinawa. You can read one of Pyle's letters to Reed here.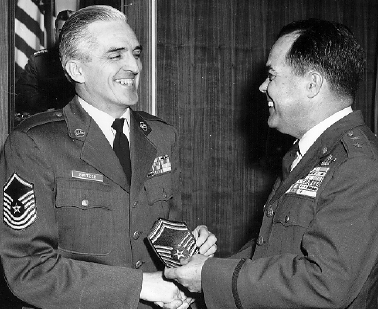 While he enjoyed his time in London and his many Public Affairs assignments in both the states and overseas, Reed found his last two assignments the most satisfying of his 30 year career.

At Wright-Paterson AFB, Reed served as the senior enlisted person at the Air Force Orientation Group, the organization that created and displayed exhibits which informed the American public about Air Force people and equipment, highlighted advances in air power, and played a major role in the Air Force's community relations and recruiting efforts.

His final assignment took him to Texas and the Air Force Military Personnel Center at Randolph AFB. As the Palace Info enlisted career advisor, Reed played a major role in the development of the Public Affairs career field. At AFMPC, and throughout his career, Reed was a valued mentor, friend, and guidance counselor to many young airmen and officers.

"Reed Switzer — The Man Who Worked With Legends", which you can read here, is an aptly titled profile of Chief Switzer written by another Hall of Famer, Chuck Lucas. And to learn even more about the first PA to make Chief Master Sergeant, you can read his biography and Oral History here.