Few, if any, other USAF officers have held such a variety of critical, high-level PR-related assignments in both war and peace as did Brig. Gen. William P. Nuckols.

After graduating from college in 1926, he worked as a journalist with various East coast newspapers. He entered the Air Corps in 1931 and graduated from flying School in June 1932. He was assigned to the Panama Canal Zone, where he served as a pilot and public relations officer for a bombardment squadron.

He left the service in June 1934, to work in public relations in New York until he was recalled in March 1938 and assigned to Randolph Field, Texas. There he conducted a public relations program for aviation cadet procurement. In December 1942 he was assigned as deputy director of the War Department Bureau of Public Relations for Air.

In September 1943, as a member of the Plans Division of the Allied Expeditionary Air Force, he helped coordinate the air effort in connection with the Normandy invasion. Immediately prior to the invasion, General Nuckols was named chief of the Information Division of AEAF, and also air member of the SHAPE public relations staff. He was later appointed public relations officer for the Ninth Air Force in the European Theater of Operations.

When he returned to the U.S. in August 1945, he became director of the Air Force School of Public Relations at Orlando, Florida. He next served as a public relations instructor at the Air Command and Staff School and chief of the Public Relations Division of the Air University at Maxwell Field, Alabama.

In September 1947, General Nuckols was recalled to the Pentagon, becoming director in January 1948 of the Air Information Division, Directorate of Public Relations, Office of the Secretary of the Air Force.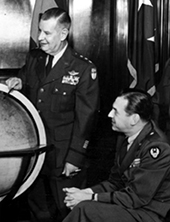 In July 1950, he became public information officer for the Far East Air Forces in Tokyo, serving under the command of Lt. General George Stratemeyer. General Stratemeyer's diary, which you can read here, contains fascinating insights into the demanding public affairs environment during the Korean War, and the ongoing rivalry between the Navy and the Air Force playing out in the press. He highlighted the critical role played by General Nuckols, dealing with such journalism legends as Edward R. Murrow and Charles Corddry, and expressed his great satisfaction at the news of the promotion of then-Colonel Nuckols to Brigadier General.

In July 1951, General Matthew B. Ridgeway appointed General Nuckols director of information, United Nations Command (Advance) in Korea. He served in that capacity until September of that year when he was designated to attend the Japanese Peace Treaty Signing conference in San Francisco as a special adviser to the United States Delegation. He returned to Tokyo in September 1951 to resume his duties as public information officer for the Far East Air Forces.

In January 1953 General Nuckols was named chief of the Public Information Division, Supreme Headquarters, Allied Powers in Europe in Paris.

He retired in November of 1957 as Commander of the 33rd Air Division (Air Defense Command) at Tinker AFB, OK. General Nuckols died on May 5, 1981.

You can read Gen Nuckols' official Air Force general officer biography here.