The name "Chuck Lucas" is synonymous with excellence in Air Force journalism. No wonder - he was the consumate pro when it came to the printed word.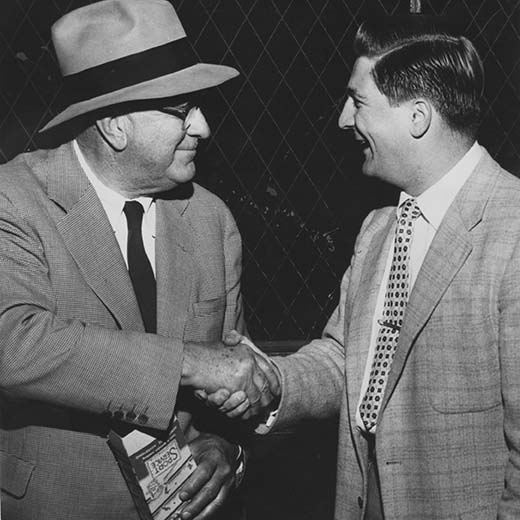 As a young reporter for his hometown newspaper before he joined the Air Force in 1948, and then as an active duty PA who somehow also managed to juggle off-duty jobs as a part-time staff writer and copy editor for the St Louis Post-Dispatch and the Washington Post, Chuck learned the newspaper business from the ground up. That experience paid dividends for the Air Force, paving the way for his very productive and prolific six year stint as editor of the Air Force News Service at the Pentagon.

His 24-year Air Force career, filled with increasingly challenging public affairs assignments, was followed by another 20 years in the Veterans Administration News Division, where Chuck became the first public affairs officer in the VA's Department of Veterans Benefits.

Journalism wasn't his only love. As a civilian after his first enlistment, he became the public relations director of one of baseball's minor leagues, the Eastern Baseball League, and then the general manager of that league's team in Wilkes-Barre, and later, Johnstown, Pennsylvania. When he was back on active duty and stationed in Germany, he was, in addition to his regular full-time public affairs job, the director of the European Little League.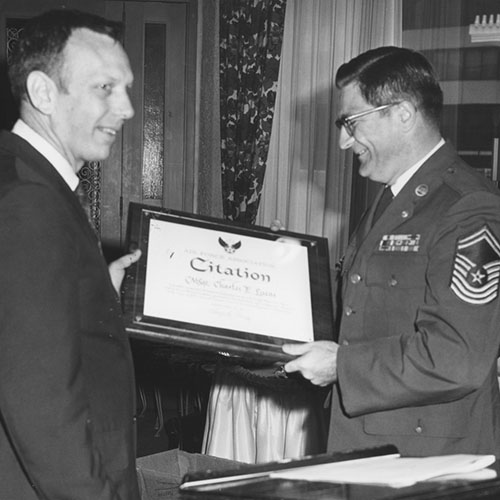 Chuck's retirement as a Chief Master Sergeant certainly didn't end his commitment to the Air Force team. He served on both the Air Force Retiree Council and the Air Force Association's Veterans/Retirees Council for many years.

Perhaps Chuck's proudest accomplishment though, was his involvement with the AFA's Outstanding Airmen Program. For over 30 years, he and his wife Mary hosted the Air Force's top enlisted people at AFA's annual convention. In recognition of this outstanding effort, the Air Force Association presented Chuck with its AFA Citation of Honor award.

To learn more about Chief Lucas and his distinguished — and amazingly diverse — career, you can read his biography and Oral History here.