William I. "Bill" Greener, Jr.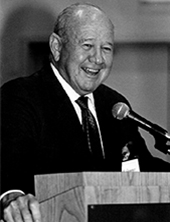 Bill Greener leveraged a 20+ year Air Force public affairs career into a series of important senior Cabinet and Presidential public affairs positions. In so doing, he proved that USAF PA's were accomplished, professional and, most important, highly competent.

A B-24 navigator in the 8th Air Force during World War II, Greener flew 35 missions over Germany. After stints as a navigator, Captain Greener transitioned into the PA career field, where he remained until his retirement from active duty in 1970 as a Lieutenant Colonel.

After his Air Force retirement, he held a number of senior public affairs positions in both the public and private sector, including Vice President for Corporate Relations at the G.D.Searle & Company pharmaceutical firm; Assistant to the IRS Commissioner for Public Affairs; Assistant Director of the Cost of Living Council for Public and Congressional Affairs; Assistant to the Secretary of Housing and Urban Development for Public Affairs; Associate Director for Public Affairs, Office of Management and Budget; Deputy White House Press Secretary in President Gerald Ford's administration; and Assistant Secretary of Defense for Public Affairs when Donald Rumsfeld was Secretary of Defense in the Ford administration.

His blunt but always pertinent thoughts about common and crisis situations were - and continue to be - valuable lessons for those he mentored and those he served.

In the July 2001 issue of News and Notes, another Hall of Famer, Chuck Lucas, wrote a profile of Bill Greener, which you can read here. To learn still more about this public affairs legend, you can read his biography and Oral History here.