General Arnold was a life-long advocate of air power and a separate United States Air Force. An accomplished writer and spokesperson, he wrote a series of six books in the mid-1920s that highlighted the value of military aviation and promoted flying to a young audience.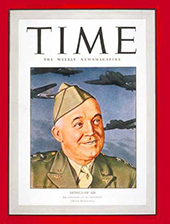 In 1925 he became chief of the Information Division in the Office of the Chief of Air Corps, one of the first full-time military public affairs officers. He testified on behalf of General Billy Mitchell during the famed courts-martial in the fall of 1925 when Mitchell was found guilty of insubordination. Arnold devotedly shared Mitchell's beliefs in the strategic capability of the airplane and urged an independent air arm which he (Arnold) lived to see authorized in 1947.
In 1941 he published, in collaboration with Colonel (later General) Ira C. Eaker, a book entitled Winged Warfare, about the growing importance of air power and military aviation. His autobiography, Global Mission (1949), includes a history of American military aviation.
To learn more about General Arnold, you can read his official Air Force general officer biography here. His autobiography, Global Mission, is available on Amazon. You can also read the cover story on him in the June 22, 1942 edition of Time magazine by clicking or tapping on the image of the magazine.